Fairburn Mountain In Winter, Black Hawk
Fairburn Mountain is an all too often overlooked peak in the Gilpin County high country, in Arapaho National Forest near Black Hawk. It's easily accessed from Cold Springs Campground. The campground is closed during the winter, but there is room to park along the side of the road. You can either park next to the closed entrance gate (there is a No Parking sign on the gate so I don't park in front of it, but there is room off to either side of the gate that lots of people use for parking and I haven't seen anyone ticketed yet). If the parking next to the gate is full, just park up the road a couple hundred feet, the pulloff is wide there and you can walk through the Aspens over to the picnic area. Be careful you don't get stuck when parking, the snow depth can be deceptive on the road sides.

The summit altitude is around 10,420 feet. My winter snowshoeing round trip was probably around 5 hours. I wouldn't recommend this trip on XC skis, as it's too steep and the trees are dense. There is an excellent xc-ski trail in this area though, check out my Cold Springs Ski Tour winter trip for details.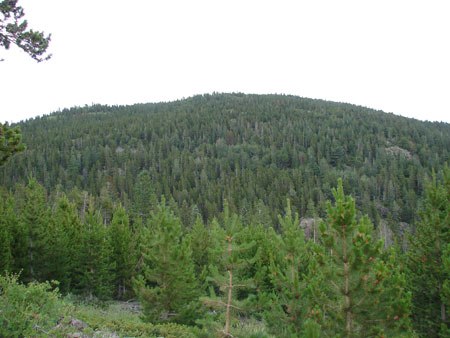 I first summited this mountain in January, since, looking out my westward window, I could see that the mountain was lonely. A winter summit of this mountain requires good snowshoes and fairly high-end winter gear. The wind is generally calm here in the mornings, but it can often get intense in the afternoons. Even though the distance is short, this off-trail backcountry trek is steep. You'll need snowshoes which have a large amount of displacement for your weight. The tiny shoes I see some people wearing will just sink right in. My Atlas Series 7's got the job done even though I had to slough through nearly 2 foot deep drops in certain areas. MSR Denali Ascent's with extenders would probably be the best.
There is a summit register here and a geocache, but it is unlikely that you will find either in the winter. All the more reason to return for the summer bushwhack version of this mountain!
Here is a link to the Geocache in case you want to look for it, but when I tried, it was quite buried. Finding it during the summer was cake: A Fairburn Bushwhack
Download the tracks and waypoints:
This download includes one of my own Geocaches which is placed near the start of the hike, you can check it out while you're in the area if you like. You can probably access it during the winter.
If you are not quite sure how to get the routes and waypoints to open correctly, read the FAQ on the subject for help: Downloading Routes And Waypoints FAQ.
Last Updated on Wednesday, 01 July 2009 12:56