Lost Lake Winter Trip, Nederland
Lost Lake is one of those secluded little gems that few people know about, but the ones who do visit it again and again. This is an excellent winter snowshoe or cross country ski trip near Nederland, complete with backcountry tent campsites all around the lake if you choose to do some snowshoe backpacking! Round-trip distance is about 5.5 miles and I completed this trip in about 3 hours in snowshoes. Expect the time to vary considerably depending on how much time you spend at the lake and whether you snowshoe or ski.

I found the cross country skiing to be overly difficult for my equipment and skill level, so I used my snowshoes instead. Plenty of people do ski this route though, so if you are a bit more of an advanced backcountry skier you can probably handle this route with no problem. Some people hike up to the lake and use old mining roads to ascend to the top of the surrounding peaks to get in some steep backcountry skiing. When I was there, there were ski tracks descending many of the surrounding summits.

The route becomes hard-packed if we haven't had any pow in a while, and large snow drifts form that can become a bit slippery when packed.

During the first mile, look to your left and you will see two of the lifts that serve the more advanced terrain at Eldora ski area. The first lift you will see is the Indian Peaks lift, while the latter is the Corona lift.

This area is very popular year-round with those who know about it, and parking can be a problem, especially in the winter. The only parking is along the road (after you have turned around first), but observe signs very carefully to make sure you are in a legal parking area. The line of parked cars can extend for quite a distance on the weekends, but during the week there will usually only be a couple of cars there.

 

Download the tracks and waypoints:
If you are not quite sure how to get the routes and waypoints to open correctly, read the FAQ on the subject for help: Downloading Routes And Waypoints FAQ.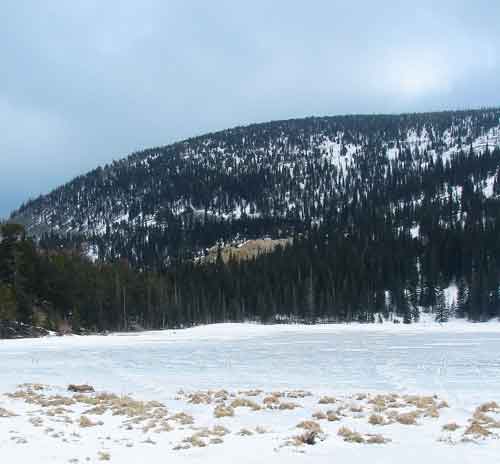 Last Updated on Wednesday, 01 July 2009 12:57