Travois-Evening Sun Loop, Near Black Hawk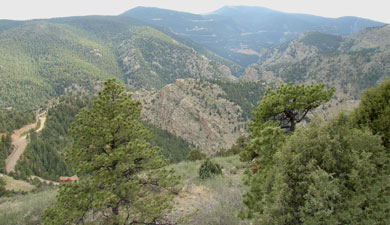 This hike, in Centennial Cone Open Space Park between Golden and Black Hawk, has some up and down but is only about 2.8 miles long so it's not very difficult. It's a great hike for families or dog walking. This hike isn't impacted by the seasonal closure of Elk Range Trail, so it's a great springtime trip.
You can hike or mountain bike this trail, although it's a bit short for a mountain bike. The scenery along this trail is excellent, with some fairly steep ledge dropoffs that provide excellent cliff views. This trail takes you through some old homestead sites as well, so you will see abandoned roads and collapsing barns along the way.
This park has some strange rules which you should be aware of. Before coming to this park make sure you read my Centennial Cone Overview page for details and closures: Centennial Cone Overview Page
If you are not quite sure how to get the routes and waypoints to open correctly, read the FAQ on the subject for help: Downloading Routes And Waypoints FAQ.
Download the tracks and waypoints:
If you want to spend the night, there are always vacancies at the casino hotels in Black Hawk. There are some nice hotels in downtown Golden, or stay in Lakewood near the Colorado Mills Mall for less expensive lodging options. There is a nice campground in downtown Golden called Clear Creek RV Park and one at the top of Golden Gate Canyon road called Dory Hill Campground.
Last Updated on Thursday, 13 August 2009 17:26