Centennial Cone Summit, near Black Hawk
This fairly easy hike near Black Hawk and Golden, ascends to the summit of Centennial Cone Park's namesake. The only thing that lends it any difficulty is the fact that part of it is off trail, and it's pretty steep in places. There is a summit register here, as well as some excellent foothills views. Also note that this trip requires using the Elk Range Trail which is closed in the Spring (see Centennial Cone Overview below for details).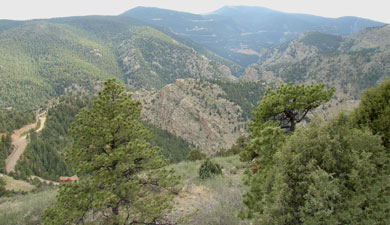 There are several routes in the download for this trip. CentConeAprch is the easy one. If you just want a quick easy trip, just follow that track back down also. For a tougher challenge, bushwhack your way around the mountainside, roughly following the CentConReturn track, until you come to the Old Road, and go up it a short distance to find the old site of a Pegmatite Mine.
This park has some strange rules which you should be aware of. Before coming to this park make sure you read my Centennial Cone Overview page for details and closures: Centennial Cone Overview Page
Download the tracks and waypoints:
 

If you are not quite sure how to get the routes and waypoints to open correctly, read the FAQ on the subject for help: Downloading Routes And Waypoints FAQ.

 

 

If you want to spend the night, there are always vacancies at the casino hotels in Black Hawk. There are some nice hotels in downtown Golden, or stay in Lakewood near the Colorado Mills Mall for less expensive lodging options. There is a nice campground in downtown Golden called Clear Creek RV Park and one at the top of Golden Gate Canyon road called Dory Hill Campground.

 
Last Updated on Thursday, 13 August 2009 17:27