Fairburn mountain summit and geocache, Black Hawk.
Fairburn Mountain is an all too often overlooked peak in the Gilpin County high country near Black Hawk. It's easily accessed from Cold Springs Campground, which has a free picnic area parking lot, perfect for day hikers. The summit altitude is around 10,420 feet. My summer roundtrip was nearly 3 hours, although I spent quite a bit of time on the summit.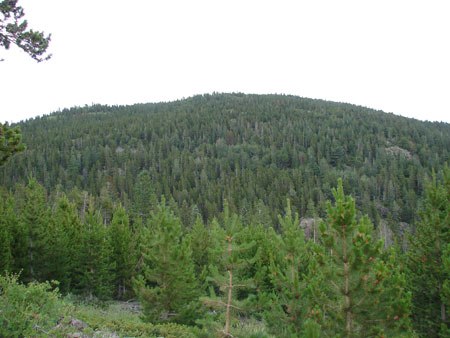 There is a summit register here and a geocache. You can see by checking both of the logs that this is a lonely mountain. It's a great trip for a bit of trailless backcountry solitude.
Be aware of Bears in this area! Activity is very heavy.
Here is a link to the Geocache: A Fairburn Bushwhack
Download the tracks and waypoints:
This download includes one of my own Geocaches which is placed near the start of the hike, you can check it out while you're in the area if you like.
If you thought this was a fun mountain in summer, wait until you try it in winter! Check out my "Fairburn Mountain In Winter" trip for details.
If you are not quite sure how to get the routes and waypoints to open correctly, read the FAQ on the subject for help: Downloading Routes And Waypoints FAQ.
For lodging options, the nearest hotels are the casino hotels in Black Hawk. This hike starts in Cold Springs Campground, a pretty National Forest Campground, or there is a developed campground nearby called Dory Hill Campground.
Last Updated on Wednesday, 01 July 2009 11:34