Mt. Galbraith Balloon Loop, Golden.
Mount Galbraith is a Jefferson County Open Space Park in Golden, Colorado. The main feature of this foothills hike: the views! There is no better place to get a sense of the topography of the Golden area, than from the vistas along this trail. Then you round a bend and are blown away by the distant views of Mount Evans. This trail is narrow in places with some impressive dropoffs and some rocky ledge crossings, but overall it's very easy. It's a fairly exposed trail with a few short jaunts under the cover of trees. Total length is 4.3 miles and it took me about 2 hours of casual walking to complete it.

 

Download the tracks and waypoints:
If you are not quite sure how to get the routes and waypoints to open correctly, read the FAQ on the subject for help: Downloading Routes And Waypoints FAQ.
If you want to spend the night, there are some nice hotels in downtown Golden, or stay in Lakewood near the Colorado Mills Mall for less expensive lodging options. There is a nice campground in downtown Golden called Clear Creek RV Park.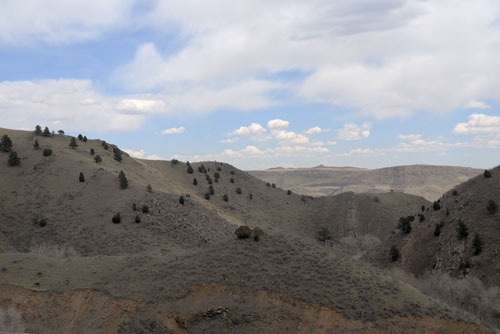 Last Updated on Wednesday, 01 July 2009 11:29