James Peak Lake, at the base of the huge James Peak East Face, is one of the most picturesque spots in the Rockies, in my humble opinion. If you have a vehicle that can make the trip (a high clearance, true 4x4 vehicle, with low-range gearing), this trip is not to be missed.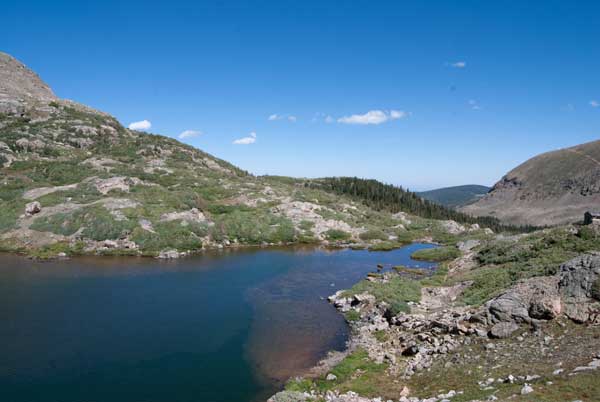 You can also summit James Peak from this route if you like. I prefer to start from Loch Lomond when summiting the peak (see my Loch Lomond route description and tracks in another article), but this works as well. Both trails meet up at a HUGE rock cairn, after that they both follow the same track to the summit.
There are two possible road routes. The first is to take Apex Valley Road which starts just north of the city of Black Hawk on route 119. The other route starts west of Rollinsville before you get to East Portal. Both road routes are tracked in the GPS download.
New Update: I have added tracks to Little Echo Lake along the Ute trail. A rarely visited small lake that is brimming with trout for you fishermen.
Download the tracks and waypoints here:
If you are not quite sure how to get the routes and waypoints to open correctly, read the FAQ on the subject for help: Downloading Routes And Waypoints FAQ.
If you want to spend the night, there are always vacancies at the casino hotels in Black Hawk. There are some nice hotels in downtown Golden, or stay in Lakewood near the Colorado Mills Mall for less expensive lodging options. There is a nice campground in downtown Golden called Clear Creek RV Park and one at the top of Golden Gate Canyon road called Dory Hill Campground.
Last Updated on Saturday, 11 July 2009 01:02