Herman Lake Trail near Georgetown
This hike begins off the side of I-70 at exit 218 (right before the Loveland Pass exit) and ascends through a wildflower valley to Herman Lake, a high-mountain lake with water cascading into it off of multiple surrounding peaks. Much of the route is on the Continental Divide Trail, which crosses under I-70 at this trailhead.

This is a very picturesque hike in itself, but if you are spending some time in the immediate area you may want to bag Grey's and Torrey's Peaks also, a pair of adjacent 14'ers that are nearby. I have the tracks for that hike in a separate article on this site.

The Herman Lake hike gets quite crowded on the weekends, at least for a National Forest hike. Nowhere near as bad as a comparable Rocky Mountain National Park hike, but still, you will not find much solitude on summer weekends here. Weekdays are desolate though, and you are only within earshot of the Interstate for a short time.

This hike is a very popular one for Internet bloggers to try to describe, so there is incorrect information about this hike all over the Internet. Wrong turns, wrong mileages, you name it. It's a 6.7 mile round trip, and the track download will make sure you don't make a wrong turn:

 

Download the tracks and waypoints:
If you are not quite sure how to get the routes and waypoints to open correctly, read the FAQ on the subject for help: Downloading Routes And Waypoints FAQ.
If you want to spend the night in the area, the nearest modern hotels are really in Evergreen or Golden. There are some basic hotels in Idaho Springs, or you could camp at the campgrounds along Guanella Pass road.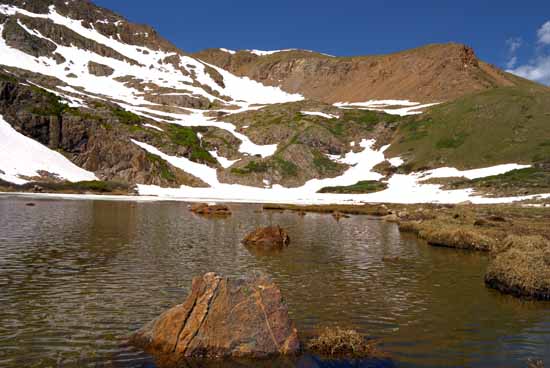 Last Updated on Wednesday, 01 July 2009 11:48