Homestead Meadows lies between Estes Park and Lyons, and is accessed from the Lion's Gulch Trailhead off of Route 36 near mile marker 8. It's a great trail for history buffs and anyone who wants to see how Colorado's early pioneers lived.
The trail up Lion's Gulch is very rocky and has some extended steep sections. The forest service has attempted to make this a family friendly trail, but it's pretty tough for the young ones. I see plenty of people turn around on this trail without ever seeing a homestead. The worst section begins where I have "Bad Talus" marked, and it finally eases where I have "EZfromHere" marked. After that mark, the trail gradually levels out and opens up into the expanse of the meadows.
The route that I took led me past 5 homesteads, and there is a sawmill nearby, signs will direct you to it if you want to see it. Signs at the homesteads tell of the families and their lives, as well as explain a little about the Homestead Act of 1862. If you want to see even more homesteads, you can turn left at the junction that I have marked as Junction 1, but this adds considerable length to the trip and may be too long for a day hike.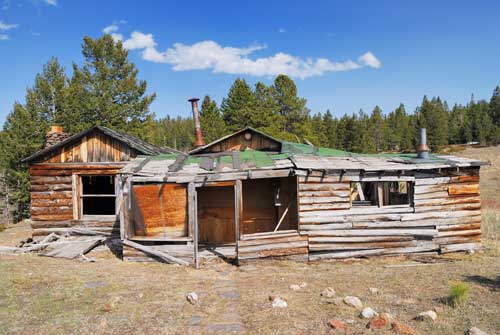 The total trip length of the tour I tracked, passing 5 homesteads, is about 10 or 11 miles depending on how much you wander around the homesteads.
Mountain Bikers: Bikes are allowed on this trail and I've tried it myself. I'm not sure that it's worth it though. It's great to have your bike at the top to travel through the meadow, but hauling it up Lion's Gulch is an arduous task that left me fairly exhausted. Not to mention that you have to haul it back down long stretches of trail that are too rocky and loose to ride. Personally, I don't recommend it unless you have a super lightweight bike.
Download Lions Gulch Tracks and Waypoints (119 downloads)