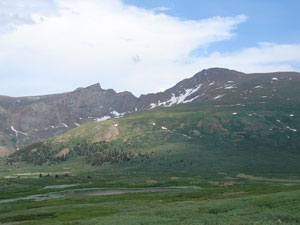 I'm sure you've heard of Mt. Evans. It's Colorado's OTHER touristy 14'er (the main one being Pike's Peak, of course). What if I told you there was a 14'er that you could hike to, in an easy day trip, and watch all the tourists drive to the top of Mt. Evans next door? They might even see you if they have the observatory telescope pointing the right direction!
The summit of Bierstadt also offers great views of the long closed Geneva Basin ski area, you can clearly see it if you look south-west. At 14,060 feet, it's not the tallest, but it's a great dayhike anyway.
My round trip took 5 hours 47 minutes and covered 7.4 miles. Most people start hiking early in the morning to avoid the afternoon lightning. Take the Georgetown exit off of I-70, and go through town as if you are going to the train station. Bear left at the fork in the road, following the signs for the Guanella Pass road. There is a parking area at the trailhead, at Guanella Pass. The trail is as easy to follow as any trail above treeline can be. There is one stream crossing which can be tricky if the water is high, glad I was wearing my GoreTex XCR's for this trip. Oh, and just like every 14'er that I've seen, the final bit is a boulder hopping scramble.
Thanks go to the Colorado Mountain Club for maintaining the summit register, be sure to sign it while you're there. And don't feed the Marmots!
Download Bierstadt Tracks and Waypoints (123 downloads)