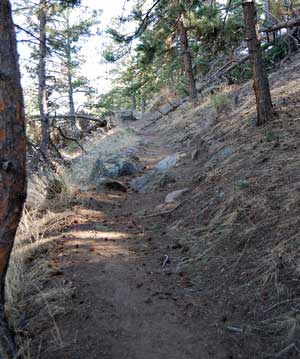 This is a super-easy Golden foothills loop hike of considerable length for families or easy-going days, known not only for it's phenomenal views but also for the variety of terrain you encounter on the various sections of the trail.
There is a campground near the half-way point (Sourdough Springs Equestrian Camp) with 8 reservable sites, great for picnicing if you don't want to spend the night. The campground has sites with picnic tables, firepits with grill tops, buckets for carrying water, seasonal well water, a vault toilet, firewood, and garbage cans.
I prefer the cooler climates of spring and fall for foothills hikes like this one, but it's fun year-round, although you may want spikes in the winter as there are some icy slopes. Many people mountain-bike this trail as well.
I left the Rawhide Trail briefly to take the Waterhole Trail through the campground, it makes the trip slightly shorter. Also, if your group starts hiking but doesn't seem up to the full 4.2 miles of this trip, you can take Wrangler's Run Trail as a shortcut directly to the Stream crossing waypoint.
There are usually flyers with trail maps at the trailhead. If you follow the loop in the same direction that I did, you start out on a horse trail in an open field area. At the end of the Waterhole Trail things get narrow as you traverse around a hillside, and the trail descends into the forest. It reaches its low-point at a stream crossing, which is also the location of the end of the Wrangler's Run Trail. The trail climbs steeply from here back to the open field area.
The Sourdough Springs campground is really excellent for easy backpacking overnighters. It is used both by horseback riders and backpackers (if you don't want the possibility of horses nearby, stay at the Sawmill backpacker campground instead). This is the best developed backcountry campsite I have ever seen, a great easy overnight hike for families. For backpacking, you need a free overnight pass which is available at the trailhead. Just follow the instructions on the backpacking kiosk at the trailhead. The drop slot for the permit is a little tricky to find, just look behind the stack of permits and sure enough there is a slot back there.
Download White Ranch Rawhide Tracks and Waypoints (105 downloads)