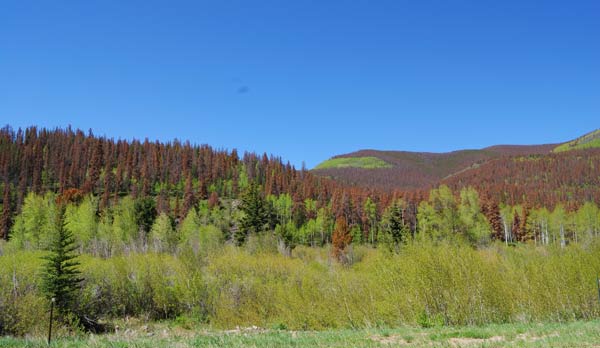 The section of Arapahoe National Forest that lies northwest of Granby is beautiful and lightly traveled. I'm in the process of mapping out some nice long loops in the area, but for now I have assembled a couple short easy trips. The Illinois Pass Trail is a nice peaceful trail in itself, but it also serves as a connection to the Willow Pass section of the Continental Divide Trail, making for some interesting looking loops that I hope to complete before the end of summer. While you are in the area you may want to take the short hike to Lost Lake also. It's a very nice, little-known lake that also has a geocache on it's banks.
The Geocache will have you pulling your hair out trying to find it! Check the Geocaching.com web site for details on the cache, I have not included a route to it. I have also included a track of the road from Granby to the Lost Lake parking lot, because things can get a bit confusing in that area. The road actually makes a complete loop back to route 34, but I didn't track the whole road for some reason. I'm sure you can figure it out. There are primitive camp sites all through the area along the road, or you can stay at one of the developed campgrounds along Lake Granby. Stillwater is a nice one. If you would rather stay in a hotel, there are plenty around the Granby and Grand Lake areas. Also, hotels in the City of Winter Park usually have great rates during summer.
Oh, and if you haven't been up to the Granby area lately, prepare to be blown away by the Pine Beetle damage.
Download Illinois Pass Tracks and Waypoints (110 downloads)