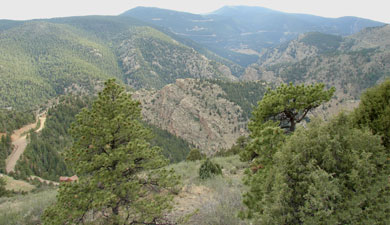 Centennial Cone is a scenic foothills park between Golden and Black Hawk, Colorado. The park offers challenging, lengthy trails that are favorites of hikers and mountain bikers. There is a hiking trailhead with parking off of route 6 a couple miles west of tunnel 3 called the Mayhem Gulch Trailhead. Using the Juniper Trail, there is a 4.5 mile loop possible from this trailhead with diverse terrain and enough up and down to get your exercise for the week. The hike looks like it would be very steep from the trailhead, but it is actually fairly gentle thanks to excellent trail design.
To hike the loop, just proceed up Mayhem Gulch Trail until it intersects with Juniper Trail. Stay to the RIGHT here, continuing on Mayhem Gulch Trail. Eventually the trail will intersect with Travois Trail (the mountain biking loop). Turn left at the intersection and after a couple hundred feet you will see the intersection with Juniper Trail. Take Juniper Trail back to Mayhem Gulch Trail, and continue down Mayhem Gulch trail back to your car.
While we were hiking this trail, we noticed a rocky cliff area with a striking waterfall, I'm sure you will see it and hear it as well if the water is flowing. From the far end of the parking lot we discovered a faint trail to the base of the waterfall. It's worth checking out if you feel up to it.
This park has some unusual rules which you should be aware of:

1. The park has decided to close Elk Range Trail during the spring for Elk Calving. It re-opens mid-June. Elk Range Trail is an important connector that makes loop trips possible, so plan accordingly.

2. On Saturday and Sunday the park is restricted to mountain bikers on even numbered days and hikers on odd numbered days. During the week the park is open to everyone.

3. Centennial Cone Park is CLOSED in December and January.
Getting to the trailhead: There are 3 parking areas for Centennial Cone park. The Mayhem Gulch trailhead is located directly on Route 6 as you're traveling from Golden to Black Hawk. The GPS download provides the precise location. It is a couple miles after Tunnel 3.
Download Centennial Cone Tracks and Waypoints (175 downloads)