This is my favorite short Mount Evans area snowshoe/cross country trail. It's a very scenic loop with enough up and down for a bit of a challenge, all in the space of a couple hours. The total length is just over 2.5 miles. You can ski or snowshoe this one, take your pick. Or snowshoe up and ski down if you prefer.
We start off on the Echo Lake Trail near the shelter house (you can park on the side of the road there). Travel around the back of Echo Lake to the opposite side, where we begin our uphill section by taking the right fork to Chicago Lakes Trail. After a few hundred uphill feet, the trail comes to a sign for Chicago Lakes Trail. Do not follow the Chicago Lakes Trail, but instead stay left following the tracks up to a ridge top with amazing vistas. From "Overlook2", follow the tracks a few hundred more feet until you come to the "Turnoff" waypoint. You are now on the Mount Evans Road near mile marker 1. Follow the road back down until you see the "Turnoff2" waypoint. Turnoff2 is actually the true trailhead for the Chicago Lakes Trail. Follow the Chicago Lakes Trail until it branches toward Echo Lake at the waypoint marked "branch here at sign", and take the Echo Lake Trail back to the starting point.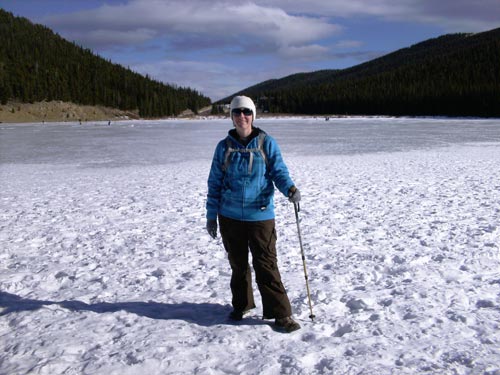 It might be somewhat difficult to find Mt. Evans Road from the ridgetop if you don't have a GPS, so be aware that those of you without a GPS might have trouble with route-finding on this one. But, with a GPS, it's easy.
Download Echo Lake Tracks and Waypoints (123 downloads)