Centennial Cone is a scenic foothills park between Golden and Black Hawk, Colorado. The park offers challenging, lengthy trails that are favorites of hikers and mountain bikers. Trails often have steep ledge dropoffs, but the reward is expansive foothills views.
This park has some unusual rules which you should be aware of: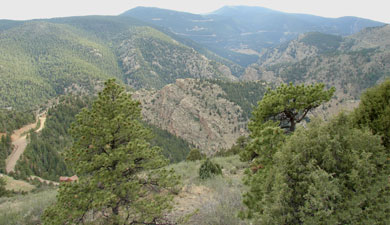 1. The park has decided to close Elk Range Trail during the spring for Elk Calving. For 2009, it re-opens June 16th. Elk Range Trail is an important connector that makes loop trips possible, so plan accordingly.
2. On Saturday and Sunday the park is restricted to mountain bikers on even numbered days and hikers on odd numbered days. During the week the park is open to everyone.
3. Centennial Cone Park is CLOSED in December and January.
Getting to Centennial Cone Park:
There are 3 parking areas. The main parking area serves as the starting point for the Travois Evening Sun hike. The west parking area is the starting point for the Centennial Cone Summit hike. The two parking areas are joined by the Elk Range Trail which is closed during the spring. There is a third parking area along Route 6 after Tunnel 3 which serves as the starting point for the Mayhem Gulch Trail.
Main Parking Area Directions: Take Golden Gate Canyon Road, turn left onto Robinson Hill Road, then proceed straight where Robinson Hill bends, turning onto Camino Perdido. Signs direct you there from Golden Gate Canyon Road.
West Parking Area Directons: Take Golden Gate Canyon Road, turn left onto Robinson Hill Road, turn onto Douglas Mountain Drive, and follow signs to the parking lot.
The GPS track download includes the roads between Route 6 and Golden Gate Canyon Road so you can find the trailheads easier.
Individual Hike descriptions:
3. Mayhem Gulch – Juniper Loop
Download all Centennial Cone tracks and waypoints:
Download Centennial Cone Tracks and Waypoints (175 downloads)
If you are a mountain biker, the loop trail that goes around the park is really nice. It's 11.6 miles around, mostly single track, and there is A LOT of up and down. It traverses some fairly narrow ledges in places, with freaky dropoffs that provide great views. There are usually trail maps at the two parking areas. Most of the mountain bike route is on the Travois Trail, except for the section in between the two parking lots which is the Elk Range Trail (closed in spring).